Richards Hollow
Description:
Richards Hollow has go to be one of the best trails in Cache National Forest.  It's fairly central to all the trails which makes it easy to hit other nearby trails.  It's got a little bit of everything, fast single track, rock garden, climbs, switchbacks, stream crossings, wildlife, beautiful views, etc.
Length: 5.4 miles one way
Difficulty: It's easiest to go from North to South as it's all downhill.  If you get to the end on the south and don't feel comfortable going back up, you can cheat and take Left Hand Fork back over to Right Hand Fork or to wherever you parked.  Other than a handful of obstacles, it's not too hard, but it's a lot of fun!
Driving directions to trailhead:
GPS Coordinates:
Combo/Loop opportunities:
Make sure you do Cart and Seep Hollow loop for added enjoyment.  I also like to access Richards by first coming up Card Canyon, then down Whites Bedground, it's a lot funner than just riding the dirt road up to Richards Trailhead.
Misc:
Maps and trail pics: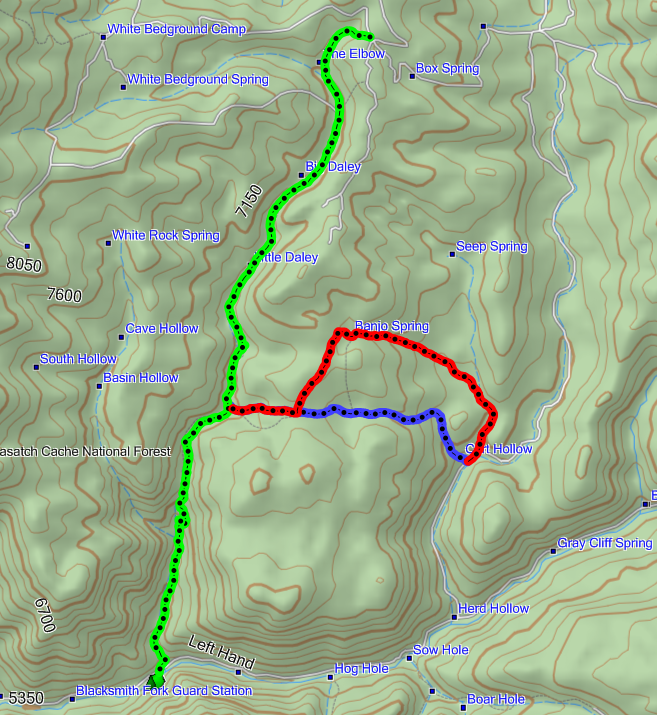 Green = Richards Hollow, Blue = Cart Hollow, Red = Seep Hollow